Advanced Radon Technologies, Inc. - New Construction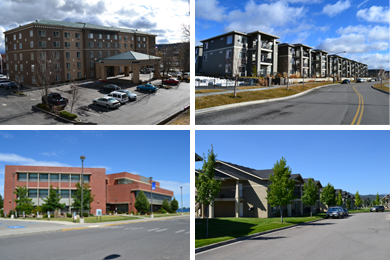 Advanced Radon Technologies has had the opportunity to work in the greater Spokane area which since 1993 has had a radon resistance construction new construction code. All type "R" (residential) occupancies with a slab require a radon system to be installed as part of the construction. Early on the state and local officials, working with local radon mitigation firms agreed to an exception to the prescriptive requirements. This agreement allowed certified radon mitigatiors, Architects and Engineers to install active radon system that required a guarantee to reduce radon levels to below the US EPA 4 Pc/L action level. This radon code includes all single family houses, Hotels, apartments and retirement centers. Spokane and Kootenai Counties have a very unusual geology do to the Great Spokane/Missoula floods of the last Ice Age. This unusual geology has left the area with more soil types then most states and some of the highest radon levels found in the United States.
Prior to the state of Washington adopting this new construction radon code ART was selected, from a nationwide search to conduct a Passive Stack Study on the effectiveness of the code.
Art studied approximately 40 new construction homes form when they were open fields to a lived in house. The study proved that passive radon systems can reduce radon levels in a structure by 6 to 8 Pc/L ART also learned many insights to how to install higher quality and more effective radon systems in all structures regardless of size or complexity.
This radon code and unusual geology has lead ART to install approximately 15,000 new construction houses, hundreds of apartment buildings and ART has had the rare opportunity to install complex radon systems in large commercial buildings. To see an example of ART's work in New Construction please review the links below.